Nikon announces new flagship D4 DSLR, will burn a $6000 sized hole in your pocket
Two years ago Nikon announced the D3s, which was to be their flagship camera then. That camera set the benchmark for low-light performance and had the competition struggling to catch up to it. Today Nikon is back with their new flagship DSLR, the Nikon D4, which improves upon the already excellent low-light performance of the D3s and this time, makes it even faster.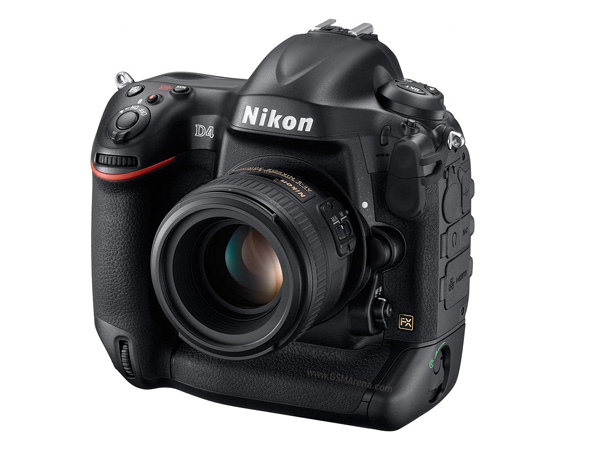 Speed is one of the highlights of the D4, which has a startup time of just 0.012 seconds. The D4 is also powerful enough to capture full resolution JPEG or RAW images at up to 10fps with full AF/AE or up to 11fps with locked AF/AE. The D4 also uses Nikon's new 51-point Advanced Multi-Cam 3500 AF autofocus system, which is said to be faster and more precise than before. To save all the data coming at blazing fast speeds you will need a similarly fast memory device so the D4 supports the new UDMA7 Compact Flash and the new XQD memory cards.
The Nikon D4 uses a full-frame 16.2 megapixel FX-format (36 x 23.9mm) CMOS sensor. It has a native ISO range of 100-12,800 but it can go as high as 204,800, twice that of what the D3s could do. Best part about the D3s was that even at those absurd ISO values it could still produce usable images and Nikon claims the D4 can do the same, at even higher sensitivities. Nikon is also using its EXPEED 3 image processing engine, which they claim is responsible for the faster speeds and improved performance.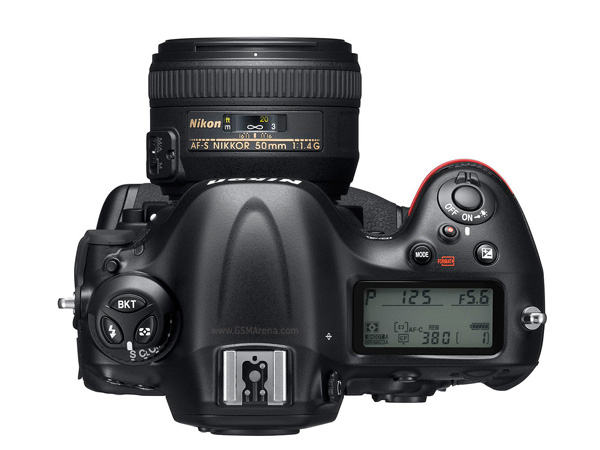 The D4 uses a new 91,000-pixel RGB 3D Color Matrix metering system which precisely analyzes each scene and recognizes factors such as color and brightness before passing on the information to the camera's on board database.
The D4 uses a new compressed RAW format along with the standard Nikon RAW (NEF) files, which consume less space and improves speed. There is also a built-in HDR mode for combining multiple images of various exposures into one image, something you'd usually have to do in Photoshop on a computer. Finally, it can also do 1080p 30/24fps and 720p 60fps video recording in H.264 / MPEG-4 AVC format.
On the back, the keys have been rearranged a bit compared to the D3s so now it is easier to use the camera in portrait orientation. There are also a couple of joysticks for adjusting your focus points or moving an image while viewing it. Nikon has also altered the camera shutter button angle to a more comfortable 35-degree and made the D4 lighter so now it is a lot easier to use compared to its predecessor.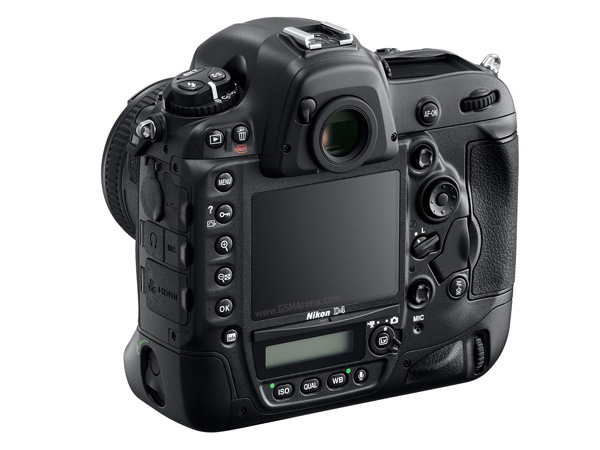 The Nikon D4 will go on sale in February and will cost you $5999.95 (body-only), which is a lot higher than the $5200 that the D3s cost when it was launched. Nikon does claim that the D4 is better in every way compared to the D3s and if you thought that $5200 for the D3s was justified then $6000 for the D4 should seem like a steal.
Anyway, this camera is not for us mere mortals so we are in no position to judge its price. It's meant for professional photographers who take pictures that justify the cost of owning such a camera. They have the D3100 and D5100 for the rest of us.
Source
Top 10 Features of iPhone 4
Apple proclaims that
iPhone 4
, promulgated on 24th June 2010, with several innovated
features
, is the most
developed design
for the new generation. Here are the
top 10 features
which distinguish it from other products.
1. Clearer Screen (Retina Screen)

iPhone 4
comprises of Retina screen which displays the sharpest high resolution of 640 x 960 and it is twofold. The Retina screen has an astounding technology of in-plane switching (
IPS
) to obtain a wider angle and four times contrast. The Retina display glass is made harder, scratch proof, oil-resistant and hard wearing. The writing seems quite different and is like printed matter.
2. Gyroscopic Sensor
iPhone 4
comprises of 6
sensors
, including 1 gyroscope, three-axis accelerometer, 1 proximity and 1 ambient light sensor for more suitable view. The
gyroscopic sensor
increases its observation on 6 axes sensation movement.
3. Thickness
The
iPhone 4
is surprisingly impressive due to its thinnest size of 9.3 millimeters with a screen of 3.5 inches. Though it is a superb model yet it will need a wider screen to watch movies etc. more conveniently.
4. Camera LED Flash
iPhone 4
includes a camera with
LED blinking
light
and sophisticated backside scintillation sensor along with incorporated
LED flash
which performs automatic function for shooting photos and videos at night or in dim light.
5. Better camera
The characteristics of
iPhone 4 camera
excel the previous models. It is 5 megapixels which is better than the
iPhone 3GS
with 3 megapixels. There are several best mobile phones camera's available, like HTC Droid Incredible integrated 8 megapixels, and Google Nexus One 5 megapixels. But,
iPhone 4
provides photographs with high definitions (720p) videos, called
iMovie app
. This camera gives 5x digital zoom and optional
HDR
(high dynamic range) setting which assists clear images.
6. Front Camera and Video conference
iPhone 4
is incorporated in the front side of camera, and a
5 megapixels
camera is at its back, which is used for self-portraits and in the video conferences. Self-portrait
videos
and
photos
are very familiar among youngsters these days.
7. MultiTasking and Folders
The iPhone 4 employs a novel and efficient operating system for multitasking support, to use multiple applications and switch between them without slowing the function. If the user is listens to the internet
broadcasts
, he may receive and se3nd the email at the same time. Another super function in iOS 4 is the Folders which organizes the
applications
.
8. Stainless steel antenna
The
iPhone 4
has stainless
steel antenna
which is being improved for combating the weak signal reception problems.
9. Internal component
The
iPhone 4
has a completely new
A4 processor
to make the speed comparably faster. the iPhone 4 comprises an extra microphone at the top for noise deletion.
10. Battery Life
iPhone 4′s battery time
is better than iPhone 3GS but the standby time will be the same as 300 hours. iPhone 4′s battery is said to provide up to ten hours of video, ten hours of web browsing on WIFI or six on 3G, fourteen hours of
2G
talk
time
or seven on
3G
, and 40 hours of music.
Nikon D4 arrives after leaks turn into flood
(Credit: Nikon)
Nikon hits the important highlights with this replacement for the D3S: improved autofocus, increased durability, better performance, and more-competitive video capabilities.
We've been anticipating this one for a while--Nikon Rumors pretty much nailed it down on December 19--but a copy of Réponses Photo surfaced with the story just ahead of Nikon's formal announcement.
(Credit: Nikon)
According to the magazine, the D4 will replace the D3S; unlike Canon, Nikon doesn't seem to be merging its vertical-gripped pro bodies into a single line. It should also be available before the 1D X, as well as cheaper, supposedly shipping in February for about $6,000. The lower price is unsurprising given the slightly slower burst and less magnified viewfinder, which are the features in a dSLR for which it's increasingly expensive to eke out 1 more frame or a fraction of a multiple. In fact, it reportedly will retain the (quite good) viewfinder from the D3S.
Here are the specs
as far as I know them (I will backfill with more details when they become available):
updated at time of announce:
Canon EOS 1D X
Canon EOS-1Ds Mark III
Nikon D3S
Nikon D4
Nikon D3X
Sensor (effective resolution)
18-megapixel CMOS
(2-line, 16-channel readout)
14-bit
21.1-megapixel CMOS
14-bit


8-channel readout


14-bit
12-1-megapixel CMOS
12-channel readout
14-bit
16.2-megapixel CMOS
16-bit pipeline
24.5-megapixel CMOS
12-channel readout
14-bit
36mm x 24mm
36mm x 24mm
36mm x 23.9mm
36mm x 23.9mm
35.9mm x 24mm
Focal-length multiplier
1.0x
1.0x
1.0x
1.0x
1.0x
Sensitivity range
ISO 50 (exp)/ 100 - ISO 51,200/204,800 (exp)
ISO 50 (exp)/100 - ISO 1,600/3,200 (exp)
ISO 100 (exp)/200 - ISO 12,800/102,400 (exp)
ISO 50 (exp)/100 - ISO 12,800/ 204,800 (exp)
ISO 50 (exp)/100 - ISO 1,600/6,400 (exp)
Continuous shooting
12fps
n/a
5fps
12 raw/56 JPEG
9fps
n/a
10fps
n/a
5fps
n/a
Viewfinder
magnification/ effective magnification
100% coverage
0.76x/0.76x
100% coverage
0.76x/ 0.76x
100% coverage
0.70x/ 0.70x
100% coverage
0.70x/ 0.70x
100% coverage
0.70x/ 0.70x
Autofocus
61-pt High Density Reticular
n/a
21 center diagonal to f5.6
5 center to f2.8
20 outer to f4
45-pt
19 cross type
51-pt
15 cross type
51-pt
15 cross type; 9 cross type to f8
51-pt
15 cross type
AF exposure range
-2 - 20 EV
-1 - 18 EV
-1 - 19 EV
-2 - 19 EV
n/a
Shutter speed
1/8,000 to 30 secs; bulb; 1/250 sec x-sync (est)
1/8,000 to 30 secs; bulb; 1/250 sec x-sync
1/8,000 to 30 secs; bulb; 1/250 sec x-sync
1/8,000 to 30 secs; bulb; 1/250 sec x-sync
1/8,000 to 30 secs; bulb; 1/250 sec x-sync
Shutter durability
400,000 cycles
300,000 cycles
300,000 cycles
400,00 cycles
300,000 cycles
Metering
252-zone RGB
63-zone TTL
1,005-pixel RGB sensor 3D Color Matrix Metering II
91,000-pixel RGB 3D Color Matrix Metering III
1,005-pixel RGB sensor 3D Color Matrix Metering II
Metering exposure range
0 - 20 EV (est)
0 - 20 EV
0 - 20 EV
n/a
0 - 20 EV
Image stabilization
Optical
Optical
Optical
Optical
Optical
Video
H.264 QuickTime MOV
1080/30p/ 25p/24p; 720/60p/50p
None
H.264 AVI
720/24p
H.264 QuickTime MOV 1080/30p/ 25p/24p; 720/60p/50p/ 25p/24p
None
Rated estimated max HD video length
4GB
(29m59s)
n/a
2GB
n/a
n/a
LCD size
3.2 inches fixed
1.04 megadot
3 inches fixed
230,000 pixels
3 inches fixed
921,000 dots
3.2 inches
921,000 dots
3 inches fixed
921,000 dots
Memory slots
2 x CF (UMDA mode 7)
1 x CF (UDMA mode 6), 1 x SDHC
2 x CF (UMDA mode 6)
1 x CF, 1 x XQD
2 x CF (UMDA mode 6)
Wireless flash
No
No
No
n/a (probably no)
No
Battery life (CIPA rating)
n/a
(2,450mAh)
n/a
(2,300mAh)
4200 shots
(1,900mAh)
n/a
4,400 shots
(1,900mAh)
Dimensions (inches, WHD)
6.4 x 6.2 x 3.3
6.1 x 6.3 x 3.1
6.3 x 6.2 x 3.4
6.3 x 6.2 x 3.6
6.3 x 6.2 x 3.4
Body operating weight (ounces)
n/a
45 (est.)
43.7 (est.)
47.3 (est.)
43 (est.)
Mfr. price
$6,800 (body only)
$6,999 (body only)
$5,199.95 (body only)
$5,999.95 (body only)
$7,999.95 (body only)
n/a
n/a
n/a
n/a
n/a
Ship date
March 2012
November 2007
November 2009
February 2012
December 2008
Though it retains the same number of autofocus points, according to Réponses Photo, Nikon supposedly has simplified the process of using the various AF options, which had become a seriously confusing system, and the camera gaines a stop of AF sensitivity in low light, which is always welcome and brings it into parity with Canon.
Nikon is reportedly also beefing up the video capabilities significantly. In addition to a full set of essential frame rates, it will use the Live View contrast-detection autofocus for AF in video capture, have headphone and mic jacks with audio level controls, and support uncompressed video output through the HDMI port. It uses H.264 B-frame compression, though that's not nearly as interesting as Canon's support of I-frames; bi-predictive compression reduces file sizes, but intraframe-only compression delivers better quality. It supports 1.5x and 2.7x crop modes in movie capture, for extended zoom with a given lens, though it doesn't seem to have a direct 1920 x 1080 mode for pixel-for-pixel video capture. Nikon also claims the faster sensor (it's listed as 16-bit processing in the press release, but that could mean 16-channel readout) produces less rolling shutter.
The sensor has 7.3-micron pixels compared to the 1D X's 6.95-micron, which may aid in producing better low-light video, where noise reduction can be trickier than for stills.
(Credit: Nikon)
It will offer face detection (not clear if there's face recognition as well) like the 1D X, probably made possible by the new higher-resolution metering sensor and Expeed 3 imaging engine, onto which Nikon tends to offload tasks like that.
The 10fps continuous shooting spec is for full resolution, full autofocus. It will be able to do 11fps with AF fixed at the first frame and 12fps at 8 megapixels.
Some other notable features include in-camera multishot HDR plus a 9-frame exposure bracketing with a range of +/- 5 stops and time-lapse capability. (I can't remember if that was in the D3S, but it's still welcome.) The body has the same rugged, weather-resistant build of its predecessors, and Nikon say's that the design has been streamlined for more fluid shooting operation as well. Like the 1D X, it now boasts an Ethernet port, and supports Nikon's WT-5A wireless transmitter.
Overall, it sounds like a good, essential set of enhancements, and certainly enough to keep Nikon devotees from envying their Canon counterparts. I'd like mine now, please.
Nikon also announced a Nikkor AF-S 85mm f1.8G lens; it's slated to ship in March 2012 for 499.95.